Uncle Andrew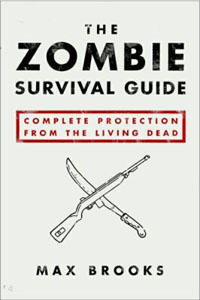 This book is an absolute gem. It was given to me by my brother-in-law Matt and his wife (when I figure out the nomenclature for spouses of in-laws, I will add it to the Neologism section), who saw it in their neighborhood bookstore and immediately thought of me. Thanks guys!
The Zombie Survival Guide is patterend after the venerable Air Force Survival Manual, combining no-nonsense tips on surviving against the undead and hilariously understated line-drawing illustrations.
The author writes as though he regards the subject matter with utmost gravity. He offers well-defined and organized chapters such as "The Undead; Myths and Realities", "Weapons and Combat Techniques" and "Living in an Undead World". There's even an extensive collection of "Recorded Attacks", "actual" historical skirmishes between humans and the living dead, which are used to illustrate the practical applications of the tips and techniques offered throughout the book. Even the origins, biology and epidemiology of zombies are laid out for the reader.
Throughout the first third or so of the book, I laughed quite often, openly amused at the deadpan delivery of such a fantastic subject. Over the next third or so, I caught myself thinking that the information being provided was pretty useful—who would have the foresight, for instance, to consider the hazard of submerged zombies walking around on the bottom of ponds, lakes and other bodies of water?—then I would remember that the subject at hand is completely fictional and give myself a mental slap across the face.
By the end of the book, I was treating it as a well-thought-out survival guide, chock-full of pertinent information. I guess that qualifies as either a favorable review for the writing style of the author, or a less-than-favorable one for the common sense of Yours Truly.
The answer to that question I will leave as an exercise for the student. But either way, check out The Zombie Survival Guide. Available wherever fine paperbacks are sold. For more information, visit the Web site (of course there's a Web site!)
Comments Off

on Recommended Reading