Uncle Andrew
Y'all may recall me talking about needing a new cell phone recently. Well, December 21st came 'round, at which point I qualified for a discounted phone under Verizon's "New Every Two" program, so off to the Interweb I went to choose my reviews and review my choices.
As it turns out, that new LG wet-dream all-in-one phone just wasn't in the cards. First of all, it would have cost me about a hundred bucks more than I felt like spending. And that's before you factor in the almost insurmountable temptation to use its built-in halfway-decent screen to surf the Web, at a premium price. Secondly, the unique form factor almost completely rules out the idea of a protective case-cum-belt-clip, something I simply cannot live without. So scratch the Snickers-bar-sized portable workstation….for now.
After some research I came away with the Motorola E815.
I've been using this phone for about a week now, and overall I think it's great. It has just about everything I wanted in a new phone—a camera, voice-activated dialing and Bluetooth—and a whole holy crapload more.
At the Verizon store I was trying to decide between the E815 and the new Verizon-badged RAZR V3c, which is undeniably the sexier of the two with its brushed aluminum, Deep Space Nine-style streamlined look. By comparison the E815 is a bit of a portly country-cousin, an effect made conspicuously worse by the addition of a protective leather-and-plastic sleeve. The thing looks nice enough nude, but dress it up in its fetish ensemble and it begins to look decidedly clumsier. This is heightened by the fact that, once donned, the sleeve prevents the earpiece side of the flip phone from closing snugly. It doesn't actually make it any more likely that the thing will be accidentally dragged or flipped open, but it kind of looks like it would.
I chose the E815 over the RAZR because of its longer battery life and memory expansion slot (more on this later). The difference in size and "cool factor" were not major criteria for me, probably because I myself am neither petite nor cool.
Reception and call quality on my phone is great, as good as or better than my previous pieceashit free-with-my-plan LG candy bar. I don't know about elsewhere in the country, but here in the Great Northwest Verizon is the King of Beers of cell phone reception. That poindexter in the ads ain't just blowing smoke; I get signal where my friends on Sprint, Cingular and Nextel fear to tread.
The phone is well put together, with a bright LCD screen, sensibly arranged menus and large buttons—considerably larger than those on my old phone, which like most of the short single-piece phones has cramped buttons in order to accommodate the screen. I've read a few posts online complaining about the buttons being "slippery". I'm not quite sure whose digits these people were using to dial their phone, but I have experienced no such problem. The buttons are "bead blast" textured plastic instead of rubber, but it's not like my thumb was ever in any danger of careening off of the "hang up" button and jabbing me in the eye or something.
Like all flip phones, the action of cradling the unit between head and shoulder (the original "hands free" communication kit) feels dangerous compared to a candy-bar phone. The inevitable flex of the hinge makes me feel like the thing's going to cleave in two at any moment, though I'm sure it has been designed with such treatment in mind. I shouldn't be using my phone that way anyway; that's what I wanted the Bluetooth for.
The kit that came with my new phone included a Jabra BT350v Bluetooth Headset, an eighty dollar value….assuming you can grind the thing up, snort it and get a killer buzz. As a phone accessory it's pretty much a complete loss; buzzy and fuzzy and more than a little scuzzy. Google the phrase "Jabra BT350v" and the majority of hits are from people selling the things on Ebay. I immediately went out and bought a Logitech Mobile Freedom headset, which is fantastic. A little tricky to get on your ear the first few times, but once you get the hand of it it's a snap. It has the added advantage over the Jabra of looking less like a silver cockroach humping your ear.
(Tech note: Bluetooth headsets do not seem to enjoy operating in a storm of EMR. Neither headset performed well in my office, which is beset on all sides by cordless phones, 802.11 devices, IR remotes, CRT monitors, FM radios and probably a dilithium crystal or two. So if you think you'll be using this thing in a tech-heavy space, you might want to invest in a corded headset, or else use the speakerphone. Or just hold the damn phone to your ear, if you're feeling churlishly atavistic.)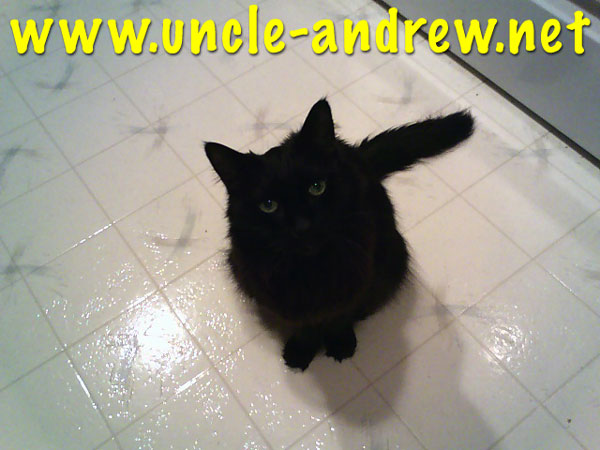 Resized, un-retouched photo shot with my phone
The camera is nice, though I really don't have much to compare it to. It takes 640 x 480 pictures and includes a 4x digital (read: "useless") zoom. It would also have been nice if the folks at Motorola had seen fit to provide a sliding lens cover for the camera. Whether that will turn out to be a problem still remains to be seen.
I never really thought much about camera phones one way or another, and truth be told, if the other features I wanted didn't come pretty much exclusively on camera phones I probably would have continued to not think much about them. But the feature does have some advantages. I can imagine being glad I have one at the scene of a traffic accident or something. That being said, I always resented the hell out of the idea that I might have to pay Verizon to email the pictures to myself via their "Get It Now" feature. With the E815, you have the option of storing photos, video and sound files on a removable TransFlash card.
These cards are tiny, about the size of a fingernail. They are currently available in capacities up to 512 megabytes, which totally freaks me out. I paid 40 bucks for a 256 meg card at Circuit City. I wish I had anything like 256 megabytes of stuff I wanted to store on my phone. The removable card is both PC and Mac compatible using the included TransFlash-to-SD card adapter, and is an essential feature due to Motorola's inexplicable decision to disable Bluetooth file-transfer capabilities on this phone. (Bluetooth file transfer is enabled on the RAZR; go figure. Perhaps Motorola will add this feature to future rev's of the E815 as well.)
My very favorite single feature on this phone is Voice Dialing. Being able to press a button on my headset, say, "Call home" and be talking to my wife (or just as likely our answering machine) without taking my eyes off the road is an almost religious experience.
There are zillions of other features on this phone—contact manager, web browser, an MP3 player, and Verizon's newest telecommunciations gewgaw VCAST, which allows you to watch television on your phone—but everything after "Voice Dialing" is of little interest to me. I'm sure I'll get around to making myself dependent on many more features of this technological marvel eventually (I hear the speakerphone is the bee's meow). In the meantime, based on my experience to date, I give it seven thumbs up. Or thumbs-ups. Whatever.