Uncle Andrew
But first I'd like to start off with a non sequitur: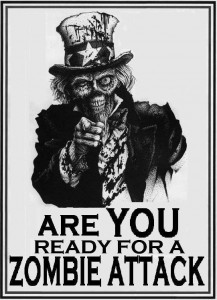 This Friday, July 3, all those who are available should come gather at the Fremont Outdoor Cinema for an attempt at breaking the Guinness World Record for most zombies at a Zombie Walk. Come in costume. Margaret and I will be there in the company of Seattle Geekly. This is also a canned food drive for Solid Ground Seattle, so bring something for the drive; no canned brains please. We'll try to post images the next day, but that being the day of our July 4th 'cue, chances are good we'll be too busy until Sunday.
And now on with our regularly scheduled blog post….
I was early for a meeting downtown near the Market last week so I decided to get a coffee and hang out a while. My favorite coffee shop in the area was not yet open, so I took a stroll around the block to see what else might be available. I ended up around a couple of corners at a Cafe D'Arte, which offers pretty good coffee as well. What they do not offer, at least at this particular shop, is good service. When I arrived, the relatively-diminutive shop was staffed by two people. Manning the machine was a twenty-something with spiky hair and an expression on his face like he was carved from a block of wood….and not particularly clever wood at that. Employee #2 was as silent as the grave, and seemed to have a case of the thousand-yard stare, though it was hard to be sure since she never once looked up from the patterned Formica in front of her. Neither said a word to me as I sidled up to the counter. I waited a few beats for Spike to say something; a greeting, a "what can I get for you?", anything. He just stared at me, taking time out to occasionally look down and twiddle his knobs. His partner just kept polishing the same piece of counter space over and over again.
"Hi," I said.
"Hi," said Spike.
Well, that wasn't much help. "Um, is this where I order?"
"Yeah," he said.
One one thousand, two one thousand, three one thousand….
"Hooo-kay, can I get a large mocha for here?"
Spike bent to the task. Or at least, I assume he was working on my order. No confirmation of any type was in the offing, and since there was a line forming behind me I stepped to the left so that his partner Lady Traumaton could take orders from the other customers.
A few minutes later Spike set my coffee down on the counter "That's four eighty-three,"  he said. I handed him a ten, and got back my change. As I picked up my mocha, I dropped my 17 cents' change into the tip jar. After an instant's hesitation, I pulled another dollar from my wallet and dropped it in as well.
Then I walked over to a table, sat down, and wondered to myself just what the fuck I had tipped these people for.
To be sure, the very concept of tipping has undergone a major transformation over the last twenty years or so. I can still remember when tipping was reserved for major service-oriented exchanges like restaurants and taxis. Before I had reached my twentieth birthday, I don't think I had ever seen a tip jar at, say, a sandwich shop or a hot dog stand.
The assumption as I think I understood it was that these types of positions were so low on the pay scale that they could be done by anyone with a body temperature of at least ninety-eight degrees, and therefore were bereft of the opportunities for excellence and attention to detail that qualified them for consideration of tipworthiness. Tipping the person who put meat on a bun for you would be like tipping the person who took your driver's license photo at the DMV.
Now the function behind tipping has seemed to have shifted to a basic comment on the unfairness of life near the bottom of the economic ladder. My food-service job sucks: therefore, you should give me a little extra money for the trouble of performing it.
I have to say up front that I don't really have a problem with this notion in theory. Food service jobs do suck: the pay is awful, there are usually no benefits (some noteworthy exceptions such as Dick's Drive-In and In-N-Out Burger notwithstanding) and you are often looked down upon by your customers as one of the lowest forms of life on earth. I am very fortunate that I no longer have to work in such a field, having done my time in college and during Margaret's pursuit of her graduate degree. Now I make decent enough money that I can blow nearly five bucks on twelve ounces of liquid refreshment and not even blink; this is a good thing. And given my relatively prosperity and good fortune, it seems only meet that I make at least these small token gestures of support towards my less pecunious fellow travelers.
My general guidelines for evaluating the size of a tip run thusly: about 40% of the tip is based on the actual performance of the service professional in question. The other 60%—the bulk of the tip—is based on my interpretation of the general suckiness of the position itself. This is the justification for giving slightly over a 20% tip to our waiter for quality service at Ivar's Acres of Clams this past Friday (we're good tippers), while proffering a 24% tip to the dull-eyed coffee drudge for his indifference earlier that week.
Of course, one might also argue that a 15 dollar tip is light-years ahead of a dollar-thirteen tip no matter what the circumstances surrounding it.
Despite the fact that my general policies regarding tipping were upheld during this recent experience, I still felt like a bit of a tool for following them. I was so annoyed with myself that I decided I would go back to the counter and tell the two employees that, while I was not in fact going to do so, I feel like their lackluster service—their fundamental lack of enthusiasm or even regard for my business—made me want to take my dollar back. Before I could do so, however, eight or ten people walked through the door and queued up for coffee, so I decided to let it go and just never come back. And in retrospect, that seems like the best and most internally consistent way of handling it. But I'm curious about you, Gentle Reader: how do you handle tipping in your day-to-day experience? Do you tip on impulse, or do you evaluate every exchange before voting with your gratuity? Do you, like me, factor in your comparative fortune at not having to resort to such means for earning your daily bread into your contributions? Or do you take the tack that, if you were to tip everyone whose job is less satisfactory than your own, you will have to carry around a sack of dollar bills, handing them out to nearly everyone you come in contact with—from the checker at the grocery store to the parking attendant in your office building—just to make it through the day? Chime in; I'm curious.