Uncle Andrew
I shot this in the parking lot of my local Office Depot this weekend. (For those in our general area who may be in need of a shredder, the OD is having a wicked sale on discontinued shredders. I got a 12-sheet diamond-cut floor model with about five sheets of paper on the odometer for 39 bucks, marked down from a hundred.)
I pulled into a stall and saw the following tableau through the windshield of the car to my left: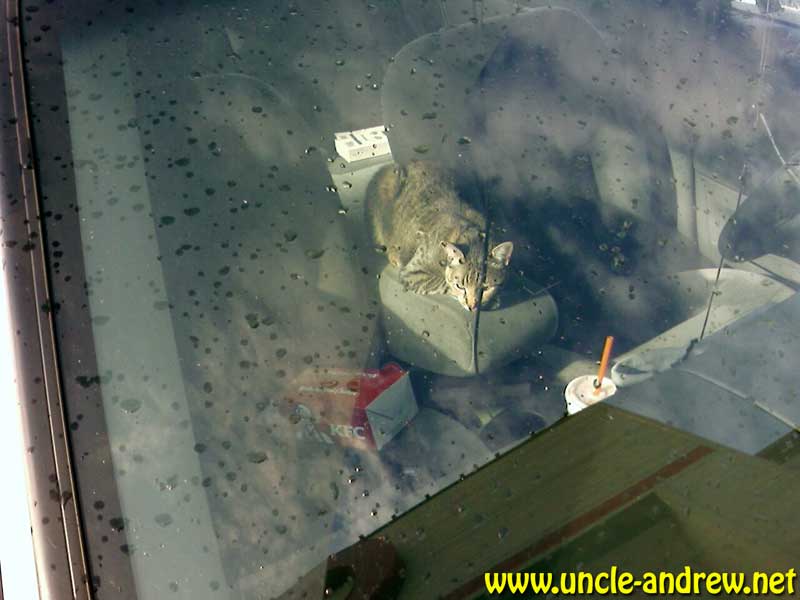 In case you can't quite make it out, that's a box from Kentucky Fried Chicken on the seat next to that cat.
Now, I don't care if that little carry-out container is full of nothing but cole slaw, corn on the cob and those wretched chocolate parfaits; I don't know of any animal not kept in an aquarium that could be trusted alone in a car with a box from The Colonel's. Even if it's got nothing foodlike whatsoever in it—gas receipts, or ballpoint pens, or packs of cigarettes—the box itself has to be saturated with enough aerosolized cooking grease and chicken particles to drive a normal cat to utter distraction.
I did carefully scrutinize the cat—as carefully as I could through the windows of a locked car, anyway—and it definitely was breathing. So it would appear to have been neither dead (fresh or taxidermied) nor a convincing mockup—"Kat" with a "K', so to speak. It could, I suppose, have lost its sense of smell, either through mishap or the machinations of a devious and cruel owner.
Following that particularly paranoid line of reason, the poor little beast might have had its spine severed just below the part that controls respiration, resulting in a quadriplegic quadruped, and the KFC box was just the perpetrator's way of adding unbearable insult to an already grevious and sadistic injury. Were that the case, I shudder to think what this person might have been procuring in an office supply store, and for what purpose.
All in all, however, I think it much more likely—not to mention more pleasant to contemplate—that this particular critter is simply a master of its own primitive urges, some sort of ascetic super-cat. Felis monasticus.
Whatever the explanation, it made a pretty cool snapshot.
4 Responses to "Redefining "Good Kitty""
Leave a Reply
All comments containing hyperlinks are held for approval, so don't worry if your comment doesn't show up immediately. (I'm not editing for content, just weeding out the more obvious comment spam.)