Uncle Andrew
Margaret snapped this photo on our way back from Alki Beach—sort of the Venice Beach of West Seattle—on Sunday: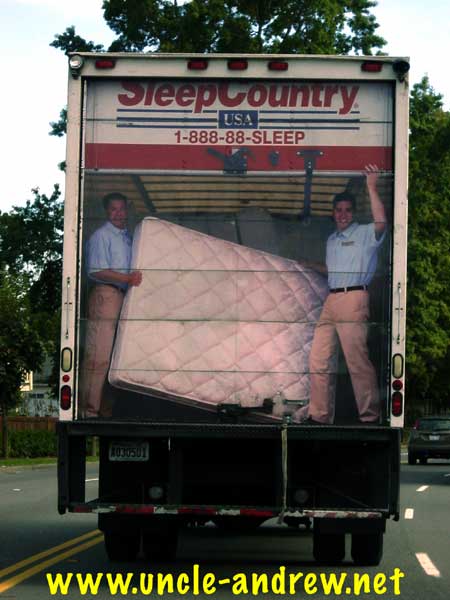 Not sure the good folks at Sleep Country thought this particular publicity strategy through.
"Dum dee dum dee doo dee—oh, HOLY CRAP!" *swerve* SCREEEEEEEEEECH !BLAM! tumbletytumbletytumblety BLONK…….FLOOF! "Ahhhh, God, it burns, it burns!"
I've never cared for their jingle, but I'm not sure that they deserve a charge of vehicular manslaughter.
3 Responses to "Road Hazard"
TriciaSB Says:
September 20th, 2005 at 12:53 pm

I've seen this on the trucks of several different companies now, and it really bugs me. It sends the message, "Associate our name with fear for your life!"

When Joe and I watch TV together, we often comment on the REAL message of a commercial. For example, the cell phone commercial where a guy's face is bloated from a bug bite, but nobody wants to call for help because their phones are roaming, sends the message that their ideal customers are penny-pinching idiots who don't value human life.

The sad part of our game is that most of the messages are a pathetic commentary on our society.

Uncle Andrew Says:
September 21st, 2005 at 6:44 am

Great. Now you've ruined those commercials for me. 😛

Actually, I kind of liked the other one in that series where the guy has his leg caught in the stirrup of a horse's saddle but won't let his kids dial for help. On the other hand, that ad shows a person's miserliness hurting only himself. Well, unless you count his kids being traumatized.

The trompe l'oeil truck door is even dumber when you consider that the time when the truck's door is most likely to be closed–and the graphic therefore visible–is when the damn thing is on the road. I can't imagine they're more than a year or two from a lawsuit from some nearsighted old lady.

Sis Says:
September 23rd, 2005 at 9:41 pm

I personally am wondering about those two sweet fellows and the bed. Alfonse wants to know are they closing the door or opening it up? Either way, I'm curious if there is some significance with what they eight and eight, etc. Is this why Margaret snapped the pix? I guess it must be true then–advertising is "truth, well told…"