Margaret
Oh.
My.
GOD!
I've been waiting my entire life to do that!
Well, okay, maybe not my entire life, but how old must I have been when Mom first read to us from My Family and Other Animals and The Overloaded Ark? Nine? Ten?
So only just most of my life.
Let me just back up a bit. I missed Saturday and Sunday.
Saturday we did laundry. We hung out in Kew, we had a superb meal at a European Bistro (this is beginning to sound more like a gastronomic diary rather than a travelogue). We dealt, with poor grace, with the airplane noise and the loud drunk people in the streets of Kew overnight and we got all packed and set to leave Sunday morning.
Sunday we woke up way to damn early and didn't wander around the streets shouting about how sober we were early in the morning (no, we're not grouchy about the noise at Maura's place, why do you ask?). We tubed to Victoria and caught the Gatwick Express to the airport. Breakfast consisted of baguette with brie, fresh basil and tomato, and fresh squeezed OJ. At the airport.
Have I mentioned that I love this society?
You may actually get that feeling when you see the photo that I took of a sticker that is placed prominently on multiple lamp posts around Kew noting that "People who let their dogs foul the pavement are bad mannered, inconsiderate, unhygienic and can be prosecuted under the 'DOGS FOULING PAVEMENT LAW'!" A whole society of people (at least the great majority of the society) who are concerned with being bad mannered and inconsiderate!
I really love this society, although having seen more of how most people live, at least in the greater London area, I can understand the social pressure to be well mannered and considerate. The train trip from Victoria to Gatwick took about half an hour and at least 15 minutes of it (at an average speed of about 80 miles an hour) was through London and the outskirts. Block after block after block of row houses. The smallest houses we saw were duplexes. If you're an ill mannered, unhygienic, inconsiderate person I rather imagine your close neighbors, all 60 or 70 of them, tend to run you out on a rail.
Which doesn't, I'll admit, do much to explain the pickled pixie that was wandering around Ennerdale Road Friday night screeching into her cell phone to Tom about how he did her wrong.
I should have bunged a brick at her head.
Anyway, we were on the way to Gatwick.
Love the train. Love it. Not much else to say although I may have more commentary after we get to Inverness (our train trip is set to take about 8 hours).
Gatwick Airport was loud, confusing, and absolutely choked with people. We took the tube to the train to the airport and once we got to the airport we had to take the tram to check in for our flight. It was a strenuous morning.
Our flight was set to leave Gatwick at 11:50. The boarding gate was set to CLOSE at 11:35. While we were finishing breakfast at 11:20, our boarding gate hadn't been assigned yet.
Mild panic.
Went to talk to the guy at the BA information kiosk, he told us the flight had been delayed. What he didn't tell us is that the flight had actually been delayed for FOUR DAYS due to fog on Jersey and that we'd be lucky if we got off the ground.
We were, in fact, lucky, it just took a while.
About three hours in fact. They started to board us at a little after 1:30. They took Andrew's boarding pass and let him on. Since our flight was very full, we were seated separately (this part is important). They took my boarding pass and wouldn't let me on. Colin (the very Irish dude at the gate) ran my boarding pass under the scanner again and the computer answered with a very discouraging "BONK" again. He poked at a few buttons, ran the scanner again and was again rewarded with "BONK". Andrew was already on the plane and there was a LONG line behind us.
"BONK"!
Colin turned to his counterpart and asked "Maeve, have you boarded seat 6C yet?"
To which Maeve replied "No, it's reserved, an Internet booking for Margaret Hammond."
Blink blink blink.
I turned to Maeve and said "I'm Margaret Hammond and I did book on the Internet."
She took my boarding pass, ran it through her scanner and got BONKed again. I offered to show her my passport and my driver's license, she declined and asked me to sit while they boarded the rest of the flight.
Oh yeah, THAT'S designed to reassure me.
So they boarded the rest of the flight and then Maeve walked me down the gangway and parked me in first class, no less, while she went to figure out which Margaret Hammond was in 6C.
I was perfectly happy to stay where I was for the rest of the flight, but she did find a girl about the size and shape of a Q-tip in 6C who was supposed to be in first class. No appreciation she'd have had for those wider seats.
Oh well.
We finally got off the ground, it was a fun flight. The cabin crew had just enough time to close the curtain between first class and coach (that is supposed to be secured in the open position during takeoff and landing) and to get everyone a drink before they had to turn around and take everything away again so we could land. The folks in first actually got a meal, but I don't think they had any time to eat since it was all I could do to finish my soda before they were collecting rubbish before landing.
Jersey is beautiful from the air and stunning in person (as it were). Green rolling hills separated by hedgerows, miles and miles and miles of white sand beach. Gorgeous architecture, ancient buildings…… I could go on.
And while there were both Pizza Hut and KFC advertised in the airport there's not a Starbucks in sight.
We got a taxi driven by a mad Glasgewian. He was charming and gave us a lot of good tourist information, but he drove like…… well, he drove like a Brit.
I think a lot of my discomfort with the traffic here is that we're on foot all the time and I can never figure out which way to look to avoid being squashed. Even when it's printed in the crosswalks (as it frequently is) "LOOK RIGHT" or "LOOK LEFT", it never feels like I'm looking in the correct direction and I'm positive I'm going to get squashed.
But it doesn't help that they all seem to drive like they were in the end stages of hallucinatory syphilis. Dude that was driving our bus this afternoon scared the pants off of me.
I get ahead of myself again.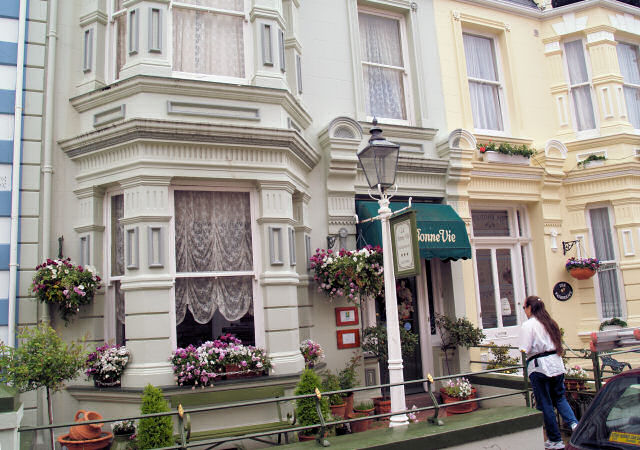 La Bonne Vie Guesthouse, Roseville Street, St. Helier, Jersey.
The interior layout of this place confuses me greatly. There are thirty seven steps from the entry up to our room and we're on the fourth floor. How do you get an odd number of steps?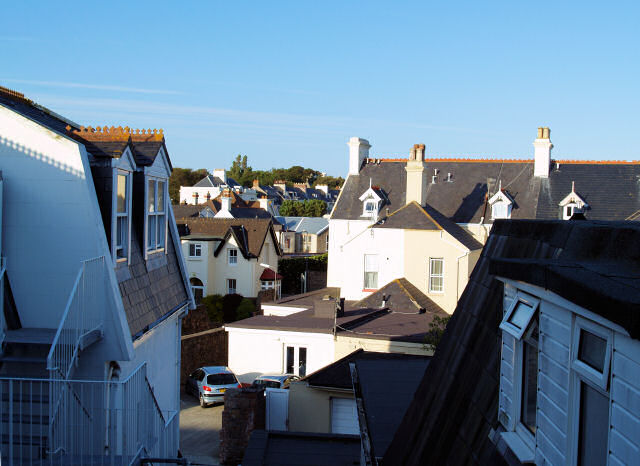 The view out our window
There are two rooms on this floor, #1 and #2. #3, #4, #7, and #10 are one floor below us. Two floors down you pass #5 and, inexplicably, #8, but there is no sign of #6 or #9. Now granted I haven't done any snooping on the second floor to see whether the hallway at the back leads to #6 and #9, but still.
And no, for the record, there is no street number for this place. It's just "La Bonne Vie Guesthouse, Roseville Street".
There are at least 5 small hotels or guest houses on Roseville Street. It is crowded, the street is almost impassable for vehicles (which isn't to say that the garbage truck and the street sweeper didn't do a fine job this morning) and it's QUIET. I was woken twice this morning, once by doves, once by seagulls. Right now I can hear the waves hitting the seawall at the quay a block and a half away. If the bed weren't so tiny Andrew and I would sleep much better, but it's still QUIET!
Completely off the subject for the moment, but I was reminded by a typo that I just deleted out. Andrew has spent the last four or five days being entirely enchanted with British cars. He wants a Ford Ka. They are cute I must admit, but I think a little impractical to put in our carryon.
We got here, got settled in and I went for a walk while Andrew napped. Lovely walk, I got to see a good section of the touristy areas of St. Helier and marked out some places that we'll have to investigate more closely. There's a park with a statue of King George V that I'll have to get a picture of. You'll understand when you see the picture.
Dinner last night at the Roseville Bistro. Three doors down the road and absolutely stupendous food. Andrew had prawns while I disported myself with chicken in mushroom sauce. The Jersey New Potatoes are worth a shout out too. Really wonderful little potatoes.
Today was dedicated to the zoo and only the zoo. Until I was completely zooed out, there wasn't any way anyone could have pried, threatened, or cajoled me out of there.
We took the bus from St. Helier, about a half hour across the island to Trinity Parish. Gerald Durrell and his zoo have rather become Trinity's talking point and it's obvious why.
This is not a commercial, make a profit type zoo.
This is a show the animals to the people enough that they'll pay to see them, but for the most part keep the animals here because they're endangered, they need a safe place, and let's see if we can't get them to breed type zoo.
You can get within touching distance of most of the animals, and it's my impression that most of them are pretty hand tame.
As impressed with and as proud as I am of Woodland Park, Jersey beats them hands down. This place was put together for the comfort and pleasure of the animals not the visitors……you'll just have to see it. I spent the day somewhere I've read about my whole life, looking at animals that I've read about my whole life. No joke, there are a couple of the orangutans and a couple of the gorillas, to say nothing of the reticulated pythons, who are originals to the zoo. It was like meeting an old friend for the first time.
I was in tears more than once. It's quite an experience.
And I found that I do, in fact, own every book Gerald Durrell ever wrote. I picked up his authorized biography though. Started reading it while we were waiting for the bus back here, it looks like it's going to be really cool. It will be leant out on request (once I'm done of course), but understand that this is one book that I will get back from whomever borrows it OR ELSE.
Got off the bus in 'downtown' St. Helier and wandered around looking for a place to have dinner. No one opens for dinner before 6 p.m., it's weird. You'd think in a tourist town they'd be open a lot more than they are, but I'm also forgetting that Jersey has a serious French influence and it's probably illegal in France to eat dinner before 6:30. We wandered through a really cool little cemetery, again, you'll have to see the pictures.
Dinner at a Portugese place on the waterfront. Our chorizo appetizer came on a grill over a dish of flame. Great food, absolutely wonderful and yes, for the record, I had lamb again while Andrew was inspired by his seafood steamed rice. The lamb kebabs came on a not so miniature sword. Now that's a kebab.
Tomorrow we plan on taking a circle island hop on hop off bus tour. I secretly hope to get out to the lavender farm, but if our bus doesn't go there I might be out of luck.
Observations for the Day 5/29/06
All of the houses have names. It's odd. We passed one today whose sign read "#1 The Cloisters". I thought that was only in books! Makes it hard to tell which are the guest houses and which are the private houses.
There is apparently a British ban on washcloths. Bath towels are present, hand towels are present, but there is no such thing as a washcloth. I can't even find one in a store.
Mom and Dad have GOT to get to Jersey. We're already planning our next trip, perhaps we can chase them out here when we come the next time.
Jersey cows are really cute.
And I still want to know what happened with Matt's bat woman.
2 Responses to "Jersey Girl"
Tony Lenzer Says:
May 29th, 2006 at 5:16 pm

Question: When Do You Have Time To Tour?!

Tony Lenzer Says:
May 29th, 2006 at 5:26 pm

Hey, Guys….don't misunderstand, we are getting a big kick out of your travel reports (and I've even run off one or two of your pix)….I'm just amazed that you have the time to do and see (and photogrraph) all this, and still have the energy to write it all down. Well, Mateys, More Power to ye!
Leave a Reply
All comments containing hyperlinks are held for approval, so don't worry if your comment doesn't show up immediately. (I'm not editing for content, just weeding out the more obvious comment spam.)