Margaret
First order of business:
OMPHALOCOELE: An umbilical hernia.
OMPHALOPHLEBITIS: Inflammation of the umbilical veins.
There's just something about the fragment "OMPH" that I find amusing.
Second order of business:
(said in a Wicked Witch of The West voice….)
POPPIES!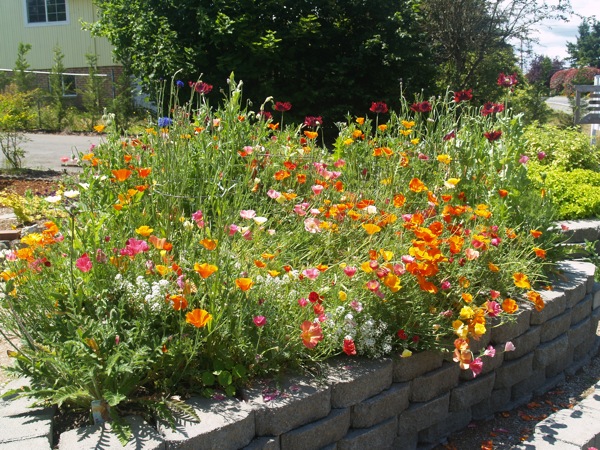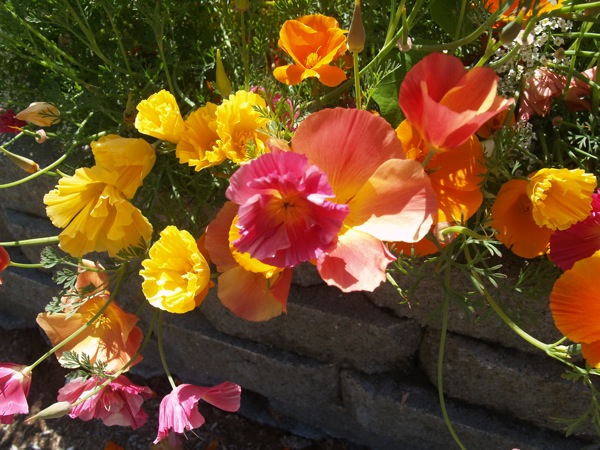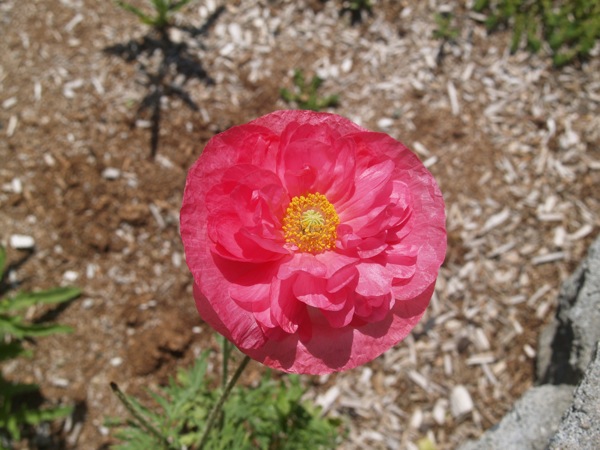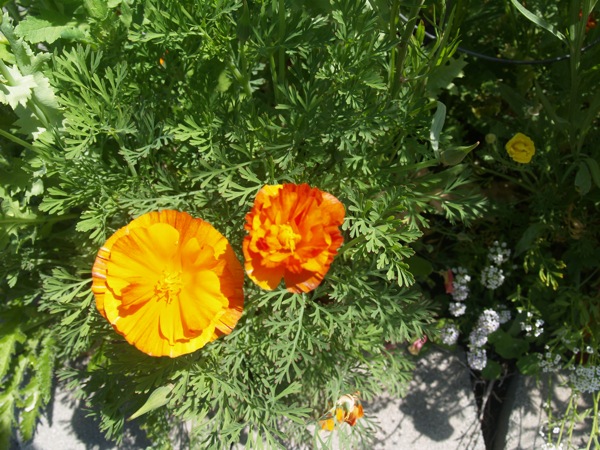 This is the center bed in the front garden. This spring Susan and I turned it, filled it with compost and chicken poo and then planted it to what I thought was going to be a somewhat more varied seed mix, but as it turns out I don't care how varied the seed mix is. Isn't that gorgeous? I mean, I've been growing, usually inadvertently, the regular California poppies for better than 10 years. With this mix I'm getting ruffles, I'm getting bicolors, I'm getting doubles, doubles with ruffles, double bicolors with ruffles….. The only problem is that I don't remember what it was I ordered from Territorial in February so I haven't the faintest idea what to order again. When these go to seed I'll be collecting seeds like a madwoman.
The garden is FINALLY all planted. The weather has been so cold and damp that even my fourth attempt at starting beans isn't going very well. The first three times I started beans it was too cold for them to sprout so they got too wet and rotted. Potatoes and onions are big and burly in that order, although I waited too long on some of the onions so the starts either got too dry or got too wet and rotted…. sigh. My poor little tomatoes though! I had ripe tomatoes at this time two years ago and at this point I've only got ONE tomato on the vines and it's green and hard as a rock. On the other hand I've got cabbages that are looking good and more squash and volunteer pumpkins than I can count. I guess we'll just see whether or not it ever gets warm enough for them to bloom and set fruit.
Third order of business:
KABOOM!
With the help of the fire pit that kept us warm and incinerated meat for us we had a lovely party on the 4th. It rained on and off all day so I didn't have to worry about spray sparks setting the garden on fire (which was nice), and it was cool enough that sitting and baking by the fire while sucking on a beer and talking was quite pleasant indeed. When it wasn't raining the back yard was a very appealing place to be.
And we had our traditional barrage that lasted -oh- five hours or so? I swear we are going to be solely responsible for the city of Normandy Park banning fireworks one of these years. In addition to the earth shattering kabooms we had plenty of little parachute guys to try and blast out of the air with roman candles. And aside from a few little mishaps like the fireball that hit me in the thigh and the one that bounced and ended up in Andrew's car (okay, new rule for next year, NO aiming roman candles at the ground) it was a great lot of fun. Curt added a new dimension to the "blasting things out of the air with roman candles" selection by bringing along a small remote controlled helicopter which was apparently a lot harder to hit than even the parachute guys.
Witness….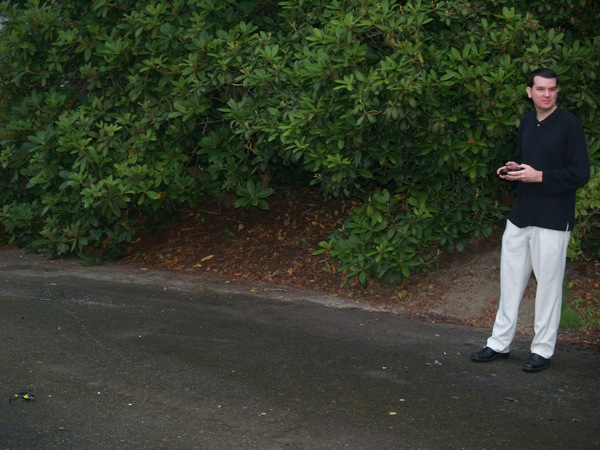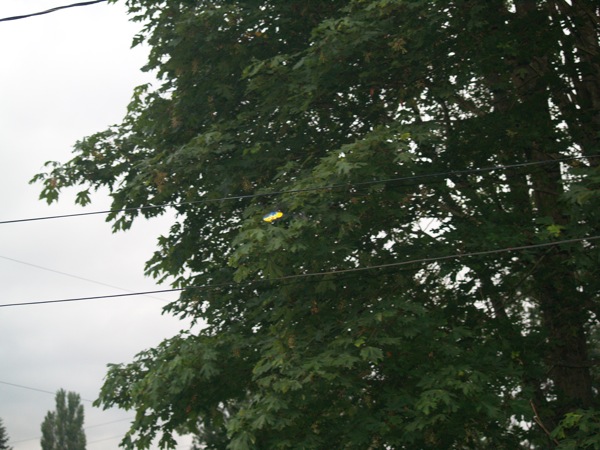 (you'll see the helicopter as a wee little yellow spot in about the center of the photo)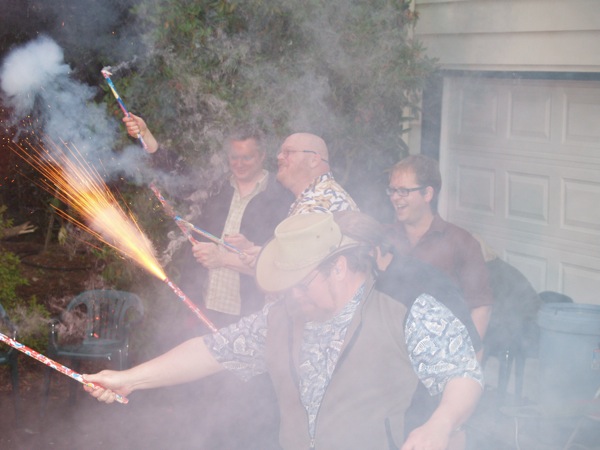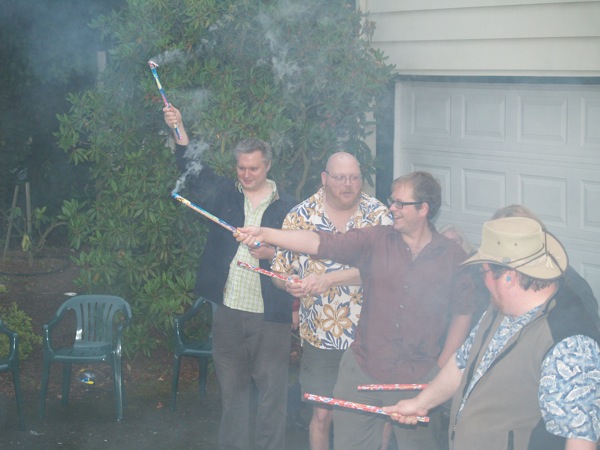 I think someone actually did manage to knock the thing out of the air (thus the aiming of the roman candles at the ground), but so far as I could tell it wasn't even singed. We had a great time.
And thus to the fourth order of business:
THE NEW ROOF!
I started out with a moderate dislike of the cedar shakes on our roof. Over the last 10 years that has progressed to active hatred. They warp. They curl. They're more than a little flammable. They grow moss and slime, they shed bits of themselves into the gutters….
Currently we are (or the driveway is) playing host to a large truck and a pair of roof monkeys who are thumping fit to shake the floor and scaring the bejeezus out of the cats. At this point all they're doing is delivering the new shingles and the rest of the roofing materials, but the theory is that they're going to start pulling the old stuff off tomorrow.
I intend to keep the cats stoned out of their gourds for the next three days or so and, my dislike of thumping, banging, and remodeling projects in general rearing its head again, I may actually join them.
Or perhaps I'll just go take a shower and go to work.
One Response to "Orders of Business"
Dalek Says:
July 18th, 2010 at 11:51 am

The 4th was awesome, as usual. Thanks for having us! And I look forward to seeing your new roof once the roof monkeys are done.

Poppy – Flemish Antique
Poppy – Thai Silk Formula Mix
Poppy – California Mission Bells

And yes, yours are all kinds of awesome. My mixed-flower bed is only just now starting to produce flowers (it's way behind yours), but I have a couple of pink ones and one that looks like caramel. And the bachelor buttons are starting to bloom, including one in my very favorite shade of bachelor-button blue, so yay!
Leave a Reply
All comments containing hyperlinks are held for approval, so don't worry if your comment doesn't show up immediately. (I'm not editing for content, just weeding out the more obvious comment spam.)