Margaret
Pogo and Flit had their third birthday on Saturday May 7th.
We're not entirely certain that they were born on the 7th of May, but since they were pretty damn close to 8 weeks old when we adopted them in the first week of July 2008 and since Scamp and Scrum's birthday was on May 7th, we decided that Pogo and Flit's birthday would be that day too.
It's just that recently we've had four cats instead of two and I'm not entirely certain that two of them deserve any sort of recognition of their natal day.
See, last Thursday evening Andrew was asleep in one of the recliners in the living room. Bare feet tantalizingly displayed over the edge of the foot rest.
And it was dinner time.
And so Andrew was woken by Ogop, hungry and not willing to be complacent about it, doing a full face and body smear over the sole of his bare foot.
I was getting a massage at the time so I didn't actually get to see Andrew, who is awfully ticklish, levitate out of his recliner, but the mental image is still making me giggle.
And Tilf! Let me just tell you about our blind-destroying Tilf!
Five minutes! Less than five minutes!! We leave the little wart alone in the bedroom for nanoseconds and she's chewed through one of the cords on the blind pull for the bedroom window.
Thus ensuring that no cat *ever* has access to our bedroom when they're not under direct adult supervision.
SIGH!
Happy birthday you little demon-spawn.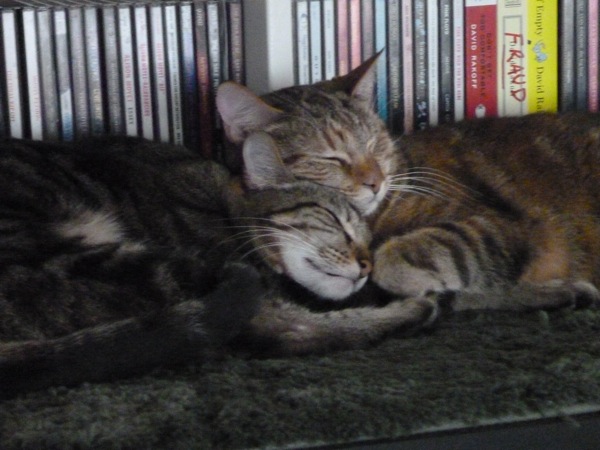 Leave a Reply
All comments containing hyperlinks are held for approval, so don't worry if your comment doesn't show up immediately. (I'm not editing for content, just weeding out the more obvious comment spam.)