Uncle Andrew
But it'll have to do for the moment. My brother sent me this little animated GIF. I'm sure some of you have already run across it, but it's funny enough to post whilst I think of something relevant to say: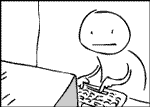 Anyone know from whence it originates? I Googled it for a bit but found nothing useful….
One Response to "It's Not a Real Post"
Shawn Says:
July 22nd, 2007 at 8:53 pm

Is that a Don Hertzfeldt?
Leave a Reply
All comments containing hyperlinks are held for approval, so don't worry if your comment doesn't show up immediately. (I'm not editing for content, just weeding out the more obvious comment spam.)