Uncle Andrew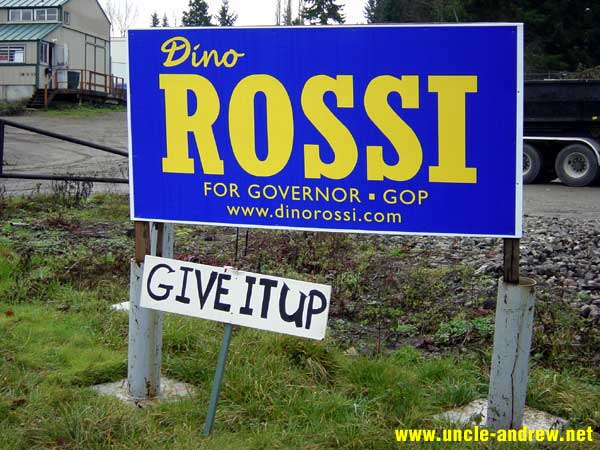 Snapped this little beauty about a mile from our house, outside some sort of metal fabrication business or scrap yard. It has since been taken down; talk about timing!
For those of you not currently residing in the Great Northwest, this tableau is in reference to our recent and possibly-not-yet-over governor's race. It's a timeless story: boy meets girl, boy runs against girl in Washington Governor's race, boy wins vote, girl demands recount, girl loses machine recount but wins subsequent hand recount, boy screams like the corncob up his butt just grew spines.
I like Christine Gregoire a lot, but I'm afraid that this will not be the best term in office for her, given the ongoing controversy.
Not that she's in danger of experiencing a lame-duck governorship.
I fear it might be more like a duck with an arrow through its neck. Tied up with duct tape.
In a tank full of piranhas.
On the surface of the Sun.
In July.
On second thought, scratch that last one; it's just ridiculous. 😛
Comments Off

on Recently Spotted