Uncle Andrew
And quite tasty, too. Ladies and gentlemen, may I present….The Mexican Frittata, or Los Frittato.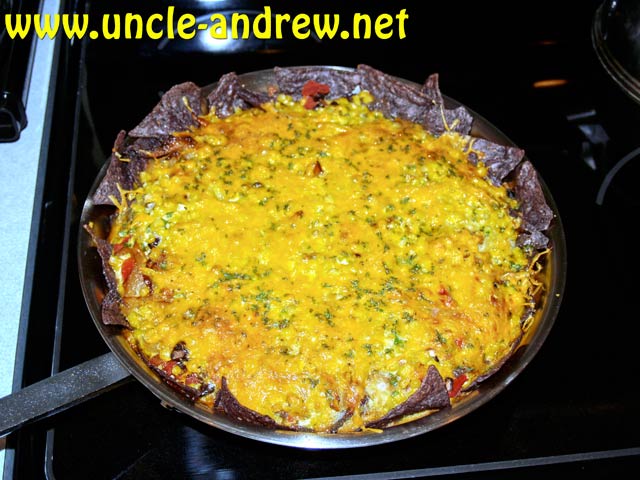 The photo doesn't really do it justice.
Had a bunch of blue corn tortilla chips left over from a party a couple-few weeks ago. They were getting a bit stale, and rather than make them into worm munchies I thought I'd see if I could use them to cobble together a frittata-style baked egg dish. Turned out very well, IMHO. Here's the recipe:
Blue corn tortilla chips
14 eggs
1 large onion
2 cups black beans
2 cups corn kernels
1-2 cups chopped or diced tomatoes
1-2 cups chopped roasted red peppers
2-3 cups grated cheddar cheese
1/2 cup milk or cream
1/8–1/4 cup red and/or green chili powder (I really like the flavor of green chili powder in this dish)
2 tbsp parsley
2 tbsp cilantro
salt to taste
Preheat oven to 375˚. Slice up the onion and saute it in a saucepan with lots of olive oil until lightly caramelized, then set aside.
In a large (the one above is a 12 incher) well-oiled skillet, lay down a layer of tortilla chips about 2 chips thick, then carefully lay additional chips around the circumference of the pan so that they climb the sides and stick up over the rim a bit. Layer the beans, onions, tomato and peppers over the chips, then sprinkle the cheese over the top.
Beat the eggs with the milk/cream, parsley, cilantro, chili powder and salt. Pour the egg mixture over everything (everything in the skillet, dimwit; otherwise the counter will get horribly sticky), making sure it is evenly distributed throughout. It probably won't actually come up to the level of the top of the other ingredients, but it will expand while baking. If you are feeling cutesy you can garnish the top with jalapeño slices or something.
Bake for approximately one hour. Remove from oven and allow to cool for ten minutes, slice and serve. Serves 4–6 people.
The play of textures between the egg, beans and other ingredients is, to my palette, both festive and yummy, and egg-soaked blue corn tortillas are at least a match for bread crumbs as far as a rudimentary crust goes. This would make a great brunch as well as dinner dish.