Uncle Andrew
Hey John,
I just wanted to take a moment to thank you for what turned out to be my very favorite online tribute to Gary Gygax. Your artwork played a key role in a (slightly tardy) memorial gaming brunch we held with a group of friends this weekend.
In the alcove of our chimney where there once sat an indoor barbecue grill (who thinks of these things? Mmmm, carbon monoxide….) we erected a small shrine to Mr. Gygax, including a selection of stuff he might need in the next life: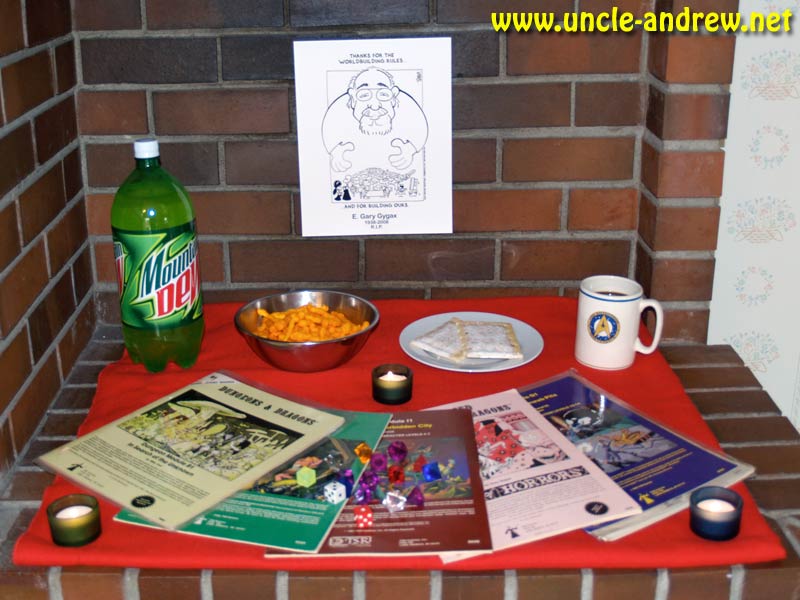 As you can see, your drawing was pretty much the centerpiece. As the guests arrived, some brought their own D&D paraphernalia to add to the monument. We ate frozen pizza, Cheetos and Pop Tarts, quaffed coffee and Mountain Dew, played—coincidentally—Munchkin (most of us are too busy to do any serious D any more) and had a marvelous time. It was a beautiful sunny day outside, and we were all indoors playing fantasy games. Very authentic. 😉
At the end of the gathering, we poured out the Mountain Dew in tribute to the fallen. The curb seemed inappropriate, as it was outside, and as avid a fan as I am I was not prepared to dump it out on the family room carpet in the basement, which seemed the most fitting. So we elected for the kitchen sink.
A great time was had by all, and I think it was a fitting memorial.
Thanks again for your contributions to the genre and the culture.
Uncle Andrew